Stephen Paddocks brain to be sent to Stanford University for months-long procedure after initial visual inspection found no abnormalities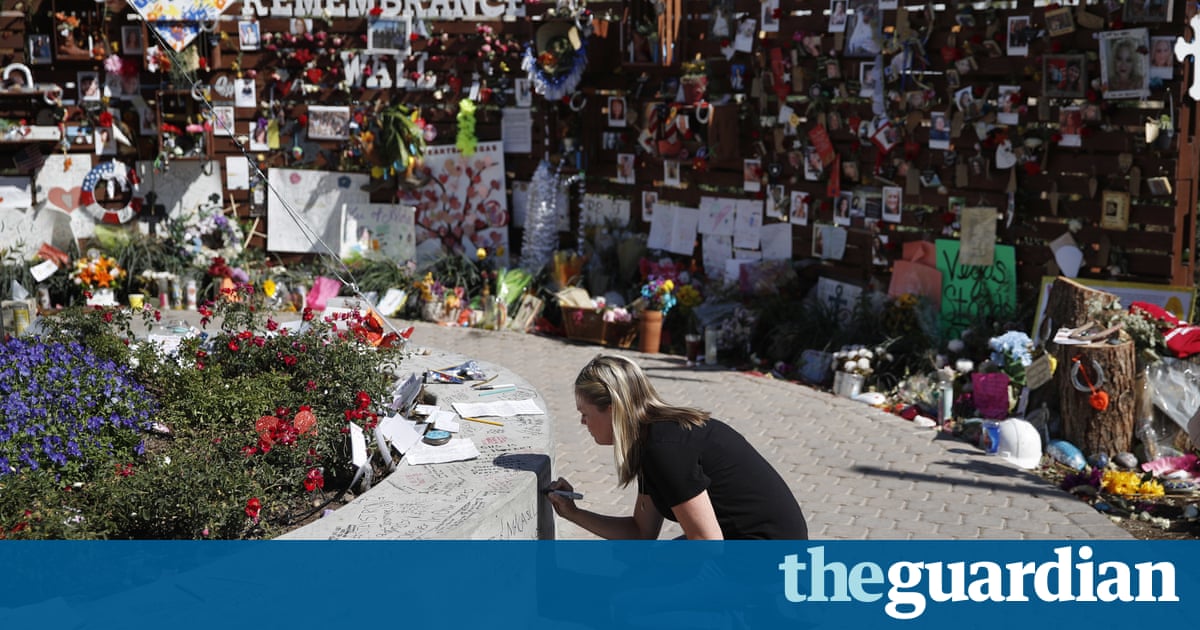 Scientists are preparing to carry out a microscopic study of the brain of the Stephen Paddock, the gunman who this month killed 58 people and injured nearly 500 in Las Vegas, in the worst mass shooting in modern US history.
Paddocks brain is being sent to Stanford University for a months-long examination after a visual inspection during an autopsy found no abnormalities, Las Vegas authorities said.
Doctors will perform multiple forensic analyses, including an examination of the 64-year-olds brain tissue, to find any possible neurological problems.
The brain will arrive in California soon, and Stanford has been instructed to spare no expense for the work, the New York Times reported. The brain will be further dissected to determine if Paddock suffered from health problems such as strokes, blood vessel diseases, tumors, some types of epilepsy, multiple sclerosis, degenerative disorders, physical trauma and infections.
Hannes Vogel, Stanford University medical centers director of neuropathology, would not discuss the procedure and referred questions to officials in Clark County, where Las Vegas is located. They also refused to provide details.
Vogel told the New York Times he would leave nothing overlooked in an effort to put to rest much of the speculation on Paddocks health. Investigators are struggling to identify a motive for the shooting.
Paddock shot more than a thousand bullets through the windows of a 32nd-floor suite at the Mandalay Bay casino-hotel and into a crowd attending an outdoor country music festival. Paddock killed himself with a shot through his mouth, police say.
Investigators remain frustrated by a lack of clues that would point to his motive. Authorities have resorted to putting up billboards in southern Nevada seeking tips and now the intensive brain study. Medical experts say it probably will not yield definitive answers.
If a disease is found, experts say it would be false science to conclude it caused or perhaps even contributed to Paddocks actions, even if that explanation would ease the minds of investigators and the world at large.
Theres a difference between association and causality, and just because you have anything, doesnt mean it does anything, said Brian Peterson, president of the National Association of Medical Examiners and chief coroner of Wisconsins Milwaukee County.
The microscopic study is not a standard practice but is regularly used as needed. Families sometimes request such a detailed examination to better understand their own genetic risks. Peterson said it was also common in high-profile cases such as this, where so much is riding on the results that all forensic options must be exhausted.
Douglas Fields, a neuroscientist who studies the rage circuit in brain systems, said horribly violent events, such as mass shootings and terrorism, rarely involved actual brain abnormalities but could be triggered by psychiatric problems.
Perpetrators often were suicidal psychopaths motivated to commit heinous crimes because they had internalized their isolation and anti-social behavior as an existential threat for themselves, he said.
When police look for motive, its kind of misplaced in cases like this because they appear to be crimes of rage, Fields said. Theres no motive for crimes of rage. Its a crime of passion.
One such case involved the University of Texas shooter Charles Whitman, who shot dead 13 people in 1966 from a clock tower on the Austin campus. Whitman was found to have a pecan-sized tumor in his brain, though whether it caused his rampage is still debated decades later.
Peterson, who is not involved in the Paddock case, said an initial inspection that is standard for any autopsy would generally include dissecting the brain at 1cm intervals to look for issues identifiable to the trained eye infection, tumor, symmetry, bleeding and blood vessel abnormality.
A further study would involve a microscopic focus on the tissue cells, such as using stains to determine different types of dementia and other degenerative diseases, including chronic traumatic encephalopathy, which is sometimes found in people who have suffered repetitive brain trauma.
There also would probably be a review of the brain at a molecular level though DNA, Peterson said.
Experts say the brain study on Paddock will be a worthy effort for scientific reasons. Paul S Appelbaum, a psychiatry expert at Columbia University, said that at minimum it might yield something even tangential that could be passed on to the public, such as awareness of psychological disorders or brain diseases.
Are we ever going to know for certain what caused his brain to do that? Appelbaum asked. Probably not from a neuropathological examination, but its not unreasonable to ask and see whether it might contribute to our understanding of what occurred.
Read more: https://www.theguardian.com/us-news/2017/oct/29/las-vegas-shooter-stephen-paddock-brain-study